And they said only the big market teams could make it in the "New NBA!"
Something funny is happening out West.  The New NBA, which was dubbed by pundits after LBJ, D Wade, and Bosh joined forces, was supposed to make the small market teams go away.
They weren't going to be able to compete in the NBA Playoffs.
Miami got their Big 3 through free agency.  The Knicks traded for Carmelo.  The Lakers and Celtics were already dominating through trades and free agency that netted the Lakers Pau Gasol and Artest and the Celtics Garnett and Ray Allen to go with Paul Pierce.
Dwight Howard wanted out of Orlando, Deron Williams forced his way to Brooklyn, Chris Paul demanded he go to LA, and the Bulls went after big names in free agency to go with Derrick Rose.
Hmmm…
A giant monopoly they said was taking place.  No one would be able to withstand it.  The NBA would be dominated by five or six teams and no one else should even try.
Somebody should have mentioned that to the OKC Thunder and the San Antonio Spurs
Two small market teams, in fact the smallest one in OKC, are battling for the right to go to the NBA Finals.  And my prediction is that these two teams will account for the next 3 NBA titles.  The Spurs this year and then Back to Back's for the Thunder!
They didn't build their big 3 like the others.  The OKC Thunder were a doormat until they drafted Durant, Westbrook, and Hardin three straight years and the Spurs had a Big 3 they drafted years ago that everyone forgot won titles together in '03, '05, and '07.  Plus Duncan's other one in 1999.  In fact this years Spurs team may go down as one of the best in NBA history if they keep churning everyone up.
So what does this mean for the future of the NBA from a business perspective?
It shows a few things.  It shows first off that it is very possible for all the teams to compete on the same level.  It is not like these teams are merely making the playoffs.  They are clearly the two best teams in the NBA right now and they have been since early April.  Not even the Heat with Bosh can touch them right now.
It gives hope for these owners after the lockout that they can come up with promotions and ideas that will get fans butts into seats other than when the Lakers and Celtics are in town to beat up on their "small market" team.
Give Coach Popovich some nasty!
When Coach of the Spurs Gregg said "he wanted some NASTY" the other night in Game 1 against the Thunder someone in the Spurs Marketing or PR Department so the viral nature of what he said.
Coach Pop is now famous on youtube and the Spurs created, printed, and sold these shirts below starting in Game 2!  They even got a shout out by the local news team in San Antonio here.
Incredible.  That is why small market teams can compete with the big boys.  They aren't just telling their fans to show up in White T-shirts like at the Miami Heat games.
They are coming up with creative ways to get fans to support and purchase merchandise and rock it all over town.
What are the Thunder doing differently in the NBA Playoffs?
Well beyond the obvious look that they hit on three straight draft picks OKC has found a niche.  When the NBA came to Oklahoma City it was not a sure bet that it would last beyond a few years.
They now have the fiercest home court advantage in all of hoops.
Look at these fans below, does that look like NBA Fans to you?  I don't remember seeing these types of fans at the Lakers or Pacers games I went to this season.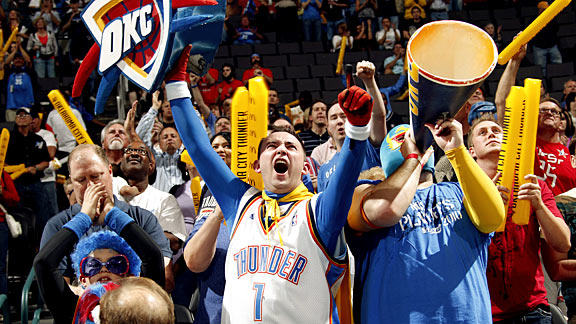 The OKC Thunder also has a very smart and caring PR and marketing department.
They have made the city of Oklahoma City absolutely adore their team.  Look no further than how many people showed up  to watch this game OUTSIDE of the arena.  Over 75,000.  Keep in mind the population of this city is only 500k.  That means about 25% of the city was just either playing, working, or watching the game at the arena that night.
1 in 4 PEOPLE in the WHOLE CITY!  We won't get into the fact OKC can't do that any longer because there was violence after the game.  Please celebrate smart people.
Incredible job at creating customer loyalty and love for their team.
What does the future hold?
This Western Conference Finals shows ownership, season ticket sales people, the marketing department, the coaches, the players, and the scouts that small markets can compete on a high scale with all of the "Big 3's" and free agency in the NBA.
Doomsday is not here.
These teams will be fine.
What they have to do is draft well, put solid role players around their stars, create loyalty and passion for their fan base, and give them more reasons past the ones above to love and cherish coming out to the arena to watch and support their team.
It is no different than what you have to do when working for a company.
OKC and the Spurs are GIVING their fans more value than what they are paying for.
And that is one of the age old lessons taken from a great book The Go Giver.  If you offer your fans more value than what they are paying for they will come back again and again.
These small market teams both from the business and competitive landscape are doing just fine with the big boys.
You win, they show up.  You thank them, they will come again.  You outserve your competitor, they will bring their friends.  You behave remarkable to them, they will love you forever! (Unless you start losing year after year of course.)
What else have small market teams done in recent years in the NBA Playoffs??  We would love to hear from you.  Post your comments below or tweet us and give us your predictions for the rest of the way!