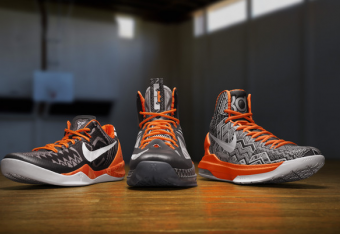 From its humble beginnings as Negro History Week in February 1926, the celebration of African American history and culture has grown tremendously to set the tone for the entire month of February since 1976.  Today, the celebration extends beyond academic and sociological settings and has made its way to the basketball court.  With over three-quarters of its players of African American descent, the NBA holds the month of February in high regard.
Across the league, teams produce and air vignettes to recognize the achievements of black leaders in sports, education, politics and culture, such as Arthur Ashe, Mary McLeod Bethune, Colin Powell and Lena Horne.  They also highlight major events in black history like the 1963 March on Washington and Martin Luther King Jr.'s I Have A Dream speech. Current leaders in the local black community are also celebrated, with many teams recognizing and presenting awards to local honorees.
This year, the Miami Heat celebrated Black History Month for the tenth consecutive season with a comprehensive campaign, including vignettes aired during pre-game, halftime, and postgame segments and featured in TIPOFF magazine throughout the month of February.  The Heat also engage youth from area schools by hosting a game show-style African American history trivia competition.  Now in its fourth year, the Black History Month Challenge presented by Pepsi is hosted at the American Airlines Arena and awards the winning school with a $4,000 grant and tickets to an upcoming Heat game.
Nike brought the celebration of black history right to the hardwood, dropping new shoes in the KD V (Kevin Durant), Lebron X (Lebron James) and Kobe System 8 (Kobe Bryant) lines.  Debuting on NBA courts on January 21, 2013, these MLK Day shoes kicked off the Black History Month celebration in the NBA featuring Nike's Black History Month print.
As the NBA continues to diversify and further its commitment to community engagement, the celebration of culture across the league will undoubtedly continue to grow.  Over the last month, the NBA has done a noteworthy job of recognizing  change makers in the game of basketball and in American culture and have set the standard for other US pro sports leagues to match.
Photo Credit: Nikeinc.com, via Bleacher Report