I had the chance to interview Forbes 30 Under 30 recipient Alex Kline, the Founder of The Recruit Scoop. Alex is a 19-year old student at Syracuse University who works double as a student and College Basketball Recruiting Analyst.
At age 15 Alex founded The Recruit Scoop, an exposure platform giving high school basketball players exposure to college coaches and fans around the world. He also runs the  Mary Kline Classic which is a charity high school basketball all-star event in the spring which raises money for cancer research.
An Interview With A Forbes 30 Under 30 Recipient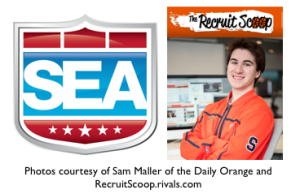 1. At age 15 you started The Recruit Scoop, a college basketball recruiting website providing the latest information on recruiting information.  What was your inspiration and how did you go about starting the website?
My inspiration was telling the interesting stories behind the future of basketball. There are so many different kids playing and so many different stories to tell outside of their recruitment. How they played on the court and what the common person knows about them. To me, their lives are so interesting and to have the opportunity to explore that about them, as well as going in-depth about their recruitment, was very rewarding to me.
I started the website after some success as a freelance journalist, after co-creating a pop culture site that gave me a little inspiration to get into basketball.
2. How did you gain an edge on gathering recruiting information over other recruiting analysts at such a young age?
Most kids I was interviewing were my age so they didn't feel threatened. Recruiting news and Q&A sessions were second nature and filled with no pressure. They knew what I was doing, but it was relaxing and friendly; never overwhelming.
Coaches were different because most were older. They could relate to me like they related to their players, but I had to build my brand up in order for them to take me seriously. After a while I showed reputability, responsibility, accuracy and a caring. My genuine nature with recruits and coaches of all levels, ages and skin colors helped me gain the edge I needed.
3. As a student at Syracuse University, how do you balance all of the college basketball recruiting information on top of regular student academics?
Since I've been doing this for so long now, it is second nature. Time management and not procrastinating is the name of the game, and it is an important asset to have in life.
You have to set your priorities, but also maintain them day in and day out. Luckily, I happened to be doing something I was passionate about so it was, and still is, very easy for me.
4. This will be the 4th year of the Mary Kline Classic, which is a charity high school basketball all-star event put on in honor of the late Mary Kline. What does this event mean to you, and how do you go about organizing it throughout the year
The Mary Kline Classic is my Super Bowl. It means the world to me and is the best day, as well as the most stressful day, of the year for me.
I run all aspects of it, from promotion to sponsorships to raising money to recruiting players to organizational parts. The people who have come on board and helped me in various aspects have done a great job, as well. I have so much fun running this event; plus helping to raise people's awareness of cancer research is very important for me.
Getting great players is also important just because as a world we love to follow trends and important people. By having the future of basketball behind this, it inspires everyone to want to be a part of it. Saturday, May 31st at 6pm at West Orange High School in New Jersey will be a memorable day.
5. With so much experience in College basketball recruiting, do you have a dream job for the future?
My idea of a dream job seems to switch every day but I have always thought about heading in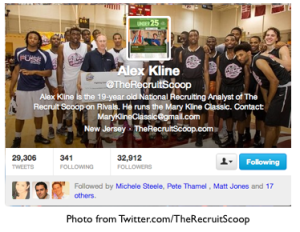 several directions.
Becoming an NBA Scout, Director of Player Personnel or General Manager would be exciting. I'm not sure if I want to stay in the media, but if I had a Robin Roberts-type role then I think that would be fulfilling. I want to change lives and be versatile when it comes to doing so. There are so many options and opportunities in the near future as I'm only 19.