Ultimate Sports Job Package
WEBINAR REPLAYS
Everything that you have been promised is below. If you have any technical troubles accessing the documents, videos, membership sites or any other questions at all, please email support@sportsnetworker.com.
[linebreak style="12.png"]
The 6 Biggest Mistakes Sports Job Seekers Make…..And How To Avoid Them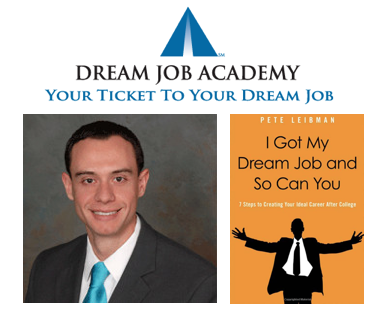 This fast-paced webinar was presented by Pete Leibman, Author of the new book titled "I Got My Dream Job and So Can You."
Despite being told it would be "impossible," Pete Leibman landed his dream job as an NBA executive when he was only 21 years old.  He was promoted into management for the NBA's Washington Wizards less than 2 years later, and he ranked as the franchise's #1 Salesperson of the Year for 3 straight seasons.  Pete's career advice has also been featured on Fox, CBS, and CNN.
[list style="blue-check-5″]
Are you tired of being ignored or rejected for jobs in sports?
Are you tired of plugging along in a job you are not passionate about?
Would you like to learn a step-by-step process for landing your dream job in the highly competitive sports industry?
If you answered "Yes" to any of these questions, this you definitely want to get your hands on this 40 minute webinar recording!
[/list]
[linebreak style="12.png"]
How To Build Your Personal Sports Brand Online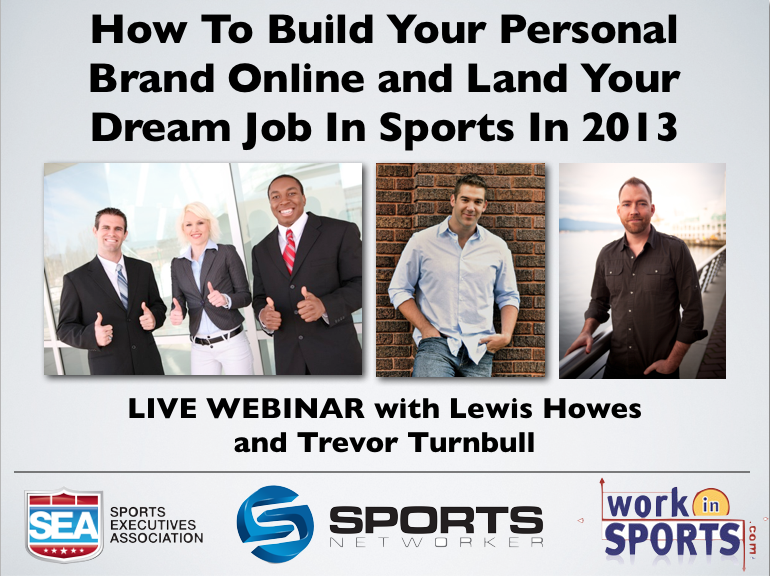 Have you "Googled" your name recently? Are you happy with what you see?  Are you nowhere to be found? Or worse yet….are you embarrassed by what you've found?
It is a FACT that 91% of employers are heading to Google to screen potential job candidates?
Your online personal brand is the first impression a potential employer has of you.
Shouldn't it SCREAM that they'd be crazy not to hire you? (rather than WHY would they hire you when your competitor has a better online presence?)
If you want to learn how to build your Personal Brand Online and position yourself as a thought leader in your chosen field, then make sure to check out this recorded webinar to find out how!
During this webinar you will learn:
[list style="blue-check-5″]
How to optimize your Linkedin profile for MAXIMUM exposure in your chosen field
Ways you can leave a LASTING impression on potential employers using Linkedin endorsements
How to MASSIVELY grow your Sports Business Network using Twitter
How to become the AUTHORITY in a Sports Niche with your Blog (even if you are jobless)
Live Q&A where we will answer your specific questions about Personal Branding
and more…
[/list]
[linebreak style="12.png"]
How To Setup Your 4 Step Sports Career Search Strategy
Aspiring sports business professionals today face an enormous amount of pressure to find a job. For every job that is posted there are hundreds (if not thousands) of applicants with similar backgrounds, credentials and education.  It has never been harder to land the job of your dreams in the sports industry.
As difficult the job market is, there are still opportunities out there for those that have the courage and show an aptitude for letting go of the familiar.
Making the shift to manage your sports career search, as a "business" is one of the most vital changes you can make!
With more than 19 years in the sports industry and corporate America, Matt shared his "sports career search strategy" during this live, interactive webinar.
He has put together an enlightening, 4 step process that is quick, to the point and most importantly…..easy to implement!
[list style="blue-check-5″]
How to POSITION yourself to the target market you are going after
How to PROMOTE yourself with professionalism and integrity
How to PACKAGE yourself to create a powerful personal brand
How to PARTNER with others to help spread your message
[/list]
[linebreak style="12.png"]
Advanced Linkedin Strategies Training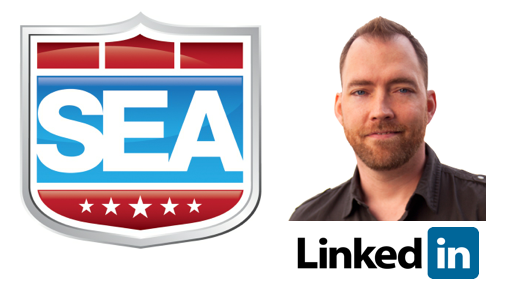 Check out this recorded webinar with Trevor Turnbull where he discusses Advanced Linkedin strategies you can use to help land you dream job in sports.  As a speaker, Trevor has presented to a wide audience on the value of Linkedin and how it has changed the way people do business. His diverse background and "non-techie" presentation style allows him to bridge the generational gap between the "old" and the "new" way of doing business..
Trevor not only teaches others how to leverage the power of Linkedin, he also practices what he preaches and has seen the benefits of strategically using Linkedin as a way to build his personal brand, land speaking engagement and develop joint venture partnerships. He is also responsible for managing and growing the largest sports industry focused group on Linkedin (Sports Industry Network) that is currently at 107,000 members and growing.
Connect with Trevor on Linkedin & Twitter to find out more about him.
During the recorded webinar, you will be able to watch live as Trevor reviews:
[list style="blue-check-5″]
How to optimize your Linkedin profile to ensure you make a positive first impression
How to add advanced applications to enhance your profile and stand out from other job applicants
One simple tactic that you can do in 5 minutes every day to get more results from Linkedin
Ways your can connect with anyone in the sports industry even if you've never met them in person
How to leverage the power of Linkedin Groups to establish expertise in your chosen career field
[/list]
[linebreak style="12.png"]