Ultimate Sports Job Guide + Bonuses
Congratulations! You have made an excellent decision to invest in your sports career!
Everything that you have been promised is below. If you have any technical troubles with the documents or video on this page or any other questions at all, please email support@sportsnetworker.com.
[linebreak style="12.png"]
The Ultimate Sports Job Guide
Are You Struggling To Land Your Dream Job In Sports? Want To Know How to Stand Out From 1000's of Applicants Looking To Steal Your Dream Job In Sports?
You've probably heard numerous times that the sports industry is ultra-competitive, but did you know that the difference between you getting a job in sports and getting turned away comes down to a few simple things that you are in complete control over?
[list style="blue-check-5″]
Discover the 1000's of sports jobs you didn't even know about (until now!)
Learn what it takes to separate yourself from your competition in the sports industry
Learn the mistakes many successful sports business professionals have made (so you don't have)
Find out where you can get the best education to help get your foot in the door
Discover where to search for over 4000+ sports jobs around the world
[/list]
[linebreak style="12.png"]
How To Write A Winning Sports Job Cover Letter
The cover letter is the sole purpose for an employer to look at the resume and determine whether or not you might be a viable candidate. If it is written badly, you might not even get a glance from a company. In most cases, the cover letter is just as important as the resume, which is a fact that is too often overlooked today.
How To Write A Winning Sports Job Cover Letter can and will do just what the title says. This ebook brings together some great knowledge and tips for writing a winning cover letter. It also lays out some exceptional examples of cover letters that you are free to use as a template and personalize to create your own resume introduction that will blow potential employers away.
[list style="blue-check-5″]
50 Pages
Learn The 12 Rules For Writing A Winning Cover Letter
Understand The 7 Power Openers That Capture Attention!
Learn What Should NOT Be In Your Cover Letter
View Sample Cover Letter Templates To Help You Get Started
[/list]
[linebreak style="12.png"]
How To Write A Winning Sports Job Resume
A resume is obviously one of the most important things someone needs in finding any job, let alone one in a field that is competitive as sports. If you can't seem to even get a call from possible employers, it is very likely the problem lies within your resume.
This ebook will go through the ins and outs of a resume and how to make each section of your educational and work history stand out. How To Write A Winning Sports Job Resume will also provide you with examples of resumes that are proven to shine; all you need to do is personalize it and you will instantly have a leg up on the competition in an extremely competitive world.
[list style="blue-check-5″]
45 Pages
Learn The Basics Of Effective Resume Writing
Understand The Key Elements Of A Resume That Will Impress!
Learn What Should NOT Be In Your Resume
View Sample Resume Templates To Help You Get Started
[/list]
[linebreak style="12.png"]
How To Ace Your Sports Job Interview
After you've sent in your resume and cover letter to a potential employer, sooner or later you'll face the daunting task of interviewing for a job. It is common knowledge, though, that generally the smallest details cause people to fail during a job interview. The fact that you can score an interview at all shows that you already have the right stuff for the job.
However, scoring the interview is merely the first step in the long journey to get you the job in sports of your dreams. After reading the How To Ace Your Job Interview ebook, you will have all of the knowledge required to get your body through that door that you are most trying to step into.
[list style="blue-check-5″]
32 Pages
Understand How To Get The Interview
Prepare For The Questions You WILL Be Asked During The Interview
Understand Some Of The Do's and Don't During The Interview
Learn How To Follow up Effectively After Your Interview
[/list]
[linebreak style="12.png"]
The 6 Biggest Mistakes Sports Job Seekers Make…..And How To Avoid Them (Webinar Replay)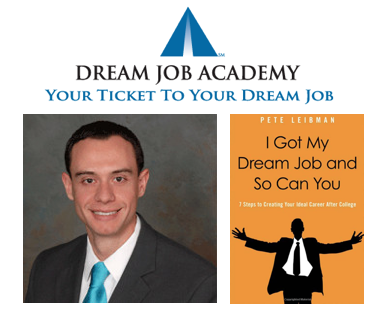 This fast-paced webinar was presented by Pete Leibman, Author of the new book titled "I Got My Dream Job and So Can You."
Despite being told it would be "impossible," Pete Leibman landed his dream job as an NBA executive when he was only 21 years old.  He was promoted into management for the NBA's Washington Wizards less than 2 years later, and he ranked as the franchise's #1 Salesperson of the Year for 3 straight seasons.  Pete's career advice has also been featured on Fox, CBS, and CNN.
[list style="blue-check-5″]
Are you tired of being ignored or rejected for jobs in sports?
Are you tired of plugging along in a job you are not passionate about?
Would you like to learn a step-by-step process for landing your dream job in the highly competitive sports industry?
If you answered "Yes" to any of these questions, this you definitely want to get your hands on this 40 minute webinar recording!
[/list]